Established in 1962 and known as "The Original As-Seen-On-TV Company", K-tel International boasts a legacy of profoundly changing the record business and advertising business simultaneously. K-tel was the brainchild of founder Philip Kives who is credited as being a self-taught marketing wizard who had the innate skill of the fast pitch and knowing what to say when. Add to this his innovation of the "Infomercial" (which became synonymous with K-tel) and Kives became a monster salesman. With these tools and his entrepreneurial spirit in tow the once humble farm boy from Oungre, Saskatchewan (a hamlet with a population of about 200) jumped from depression era poverty to multinational business leader and pioneer.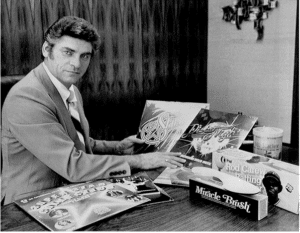 After years cutting his teeth as a door-to-door and boardwalk salesman, his first breakthrough was with the newly released teflon frying pan. Kives bought time on a local Winnipeg TV station to reach a world of people at once and he was off to the races! Customers flooded stores with the pans and the sales racked up. He then repeated this approach in Australia with TV spots selling kitchen knives and earned a million sales, netting a cool $1 per sale. Jealous of his success, his kitchen goods supplier/inventor Seymour Popeil cut him off and forced Kives to look at
other items worth peddling. Ever the problem solver, Kives found new products; The Patti Stacker ("Your hands need never touch the meat!"), The Record Selector, and then the sales behemoth – The Miracle Brush, which sold 28 million units.
Kives is best known for using an unapologetically mainstream approach to sales. While other marketing execs toiled with more "posh" ads, Kives realized the average consumer couldn't relate to this type of pitch. He knew buyers were looking for one thing, value. He trimmed the fluff, focused on great pricing, flooded the market with products, and used his infomercial style to continuously highlight the benefits of each product. Kives also employed in-your-face (borderline obnoxious) imagery/graphics paired with loud ear worm catch phrases like; "ACT NOW BEFORE IT'S TOO LATE!!" and "BUT WAIT, THERE'S MORE!". Tactics like these were used over and over as the inexpensively made and hardly subtle commercials were beamed into homes. Consumers were hungry to spend their boom-era dollars and ate it up.