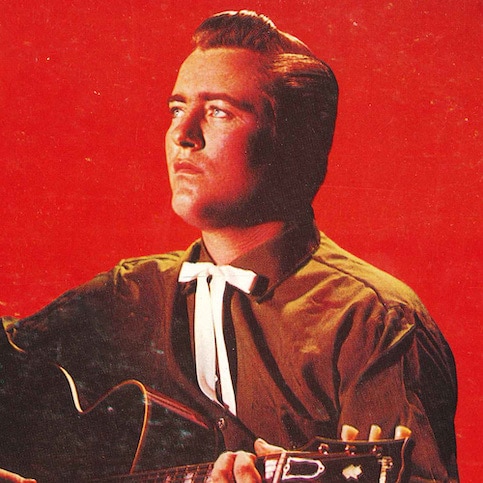 The Story....
Rockabilly artist Dorsey Burnette was born in Memphis, Tennessee. In his teens Dorsey joined his younger brother Johnny and guitar player Paul Burlison to form The Rock and Roll Trio. When appearing on the Ted Mack Amateur Hour, a deal with Coral Records and cutting the classic "The Train Keep A-Rollin'", didn't bring the guys the fame they hoped for. The Rock and Roll Trio disbanded in 1957.
Dorsey and Johnny moved to California where they started making a name for themselves. They wrote a few songs for Ricky Nelson that became hits – "Believe What You Say", "It's Late" and "Waitin' In School". Dorsey offered Ricky another song he had written titled "(There Was A) Tall Oak Tree". Ricky passed so Dorsey cut it himself. Dorsey had just signed with Era Records, and they ended up issuing "Tall Oak Tree". Sorry Ricky, it turned out to be a hit! He followed it up with another self-penned tune, "Hey Little One" which also landed the Top 50. Dorsey left Era Records in 1961 and recorded for a few other labels with varying success.
Dorsey is the father of Billy Burnette (Fleetwood Mac). Dorsey suffered a massive heart attack and died in 1979 at the young age of 46.
CHART HITS
(There Was A) Tall Oak Tree – #23 (1960)
Hey Little One – #48 (1960)
Big Rock Candy Mountain – #102 (1960)
The Ghost Of Billy Malloo – #103 (1960)
NOTABLE TRACKS
Great Shakin' Fever (Rockabilly favorite)
Hard Rock Mine (one stop)
I Got The Sun In The Morning
That Lucky Old Sun
Lazy Bones
Red Roses
Hard Workin' Man
(It's No) Sin
The Wayward Wind
Suddenly There's A Valley
That's Me Without You
Swing Low, Sweet Chariot (one stop)