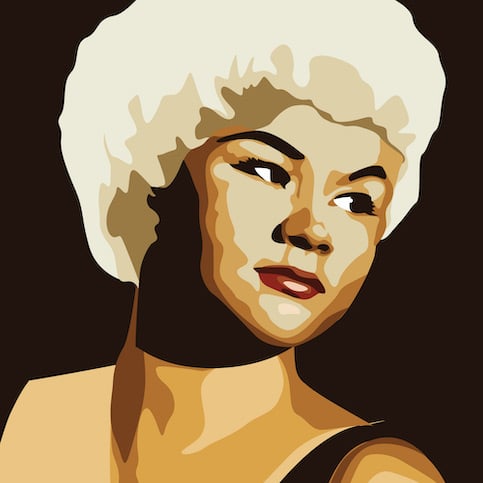 The Story....
Etta James was born Jamesetta Hawkins in Los Angeles, California. She was discovered by Johnny Otis ("Willie And The Hand Jive") while performing in the Bay Area. Johnny got her signed to Modern Records where she experienced a couple R&B chart hits in the 1950s. In 1960 she was signed to Argo Records and scored her first "crossover" hit when "All I Could Do Was Cry" charted on both the R&B and Pop charts.
Her signature song "At Last" was a hit when it was released in 1961. Through the years the song has gained in popularity partially because it has become a staple wedding song.
In 1967 "Miss Peaches" (Etta's nickname) headed down to Muscle Shoals, Alabama to record at Rick Hall's FAME studio. The result, "Tell Mama", was one of Etta's funkier efforts.
In addition to having her big hits K-tel recorded Etta belting out several classic gospel songs as only Etta could do. Several of those tracks are one-stops.
CHART HITS
All I Could Do Is Cry – #2 R&B / #33 Pop (1960)
At Last – #2 R&B / #47 Pop (1961)
Trust In Me – #4 R&B / #30 Pop (1961)
Something's Got A Hold On Me – #4 R&B / #37 Pop (1962)
Pushover – #7 R&B / #25 Pop (1963)
Tell Mama – #10 R&B / #23 Pop (1967)
GOSPEL TRACKS
Amen / This Little Light Of Mine (one stop)
Blowin' In The Wind
Down By The Riverside (one stop)
He's Got The Whole World In His Hands (one stop)
I Saw The Light
I'll Fly Away From Here
I'll Make It All Right
Jesus Is My Kind Of People
Jesus Lover Over My Soul (one stop)
Let's All Go Down To The River
Lord, Don't Move That Mountain (one stop)
Oh Happy Day
Old Time Religion (one stop)
Storms Of Troubled Times
Swing Low Sweet Chariot (one stop)
To My Father's House (one stop)
Walk All Over God's Heaven (one stop)
We'll Fly You To The Promised Land