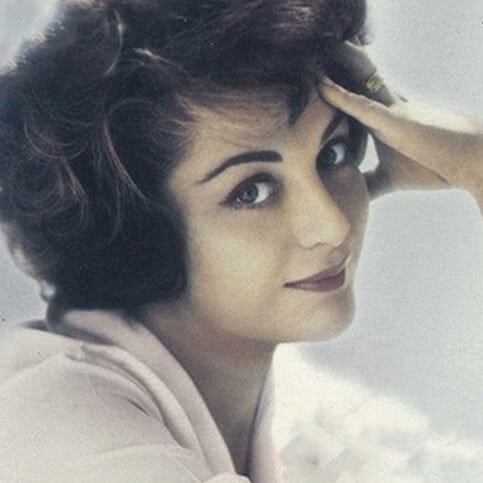 The Story....
Gogi Grant was born in Philadelphia and moved to Los Angeles with her family when she was 12. She always enjoyed singing but it wasn't until she won a talent contest at the Mocambo nightclub on the Sunset Strip that she began to take it seriously.  She cut a demo and got signed to RCA Records. After a couple lukewarm releases Gogi and RCA parted ways. Era Records would move in and sign Gogi in 1955. Her first recording session for Era produced the Top 10 hit "Suddenly There's A Valley". Her hit record, exciting live performances and winning personality made Gogi a favorite nightclub performer and TV variety show guest.
It came time to record the all-important follow up single. Several songs were cut during the November 1955 sessions including "Who Are We", "No More Than Forever", "We Believe In Love" and "The Wayward Wind". It was determined "Who Are We" was the right song to keep the momentum going. When it stalled at #62 they decided to give "The Wayward Wind" a try. The rest is musical history. In a mere five weeks "The Wayward Wind" breezed up the Billboard singles chart knocking Elvis Presley's "Heartbreak Hotel" out of the number one spot. It stayed on top of the charts for an incredible eight weeks making it one of the biggest hits of the 50s. Today the haunting ballad about a man who was "born the next of kin to the wayward wind" has become a "classic oldie".  
K-tel has all Gogi's original Era recordings.
CHART HITS
The Wayward Wind – #1 (1956) GOLD
Suddenly There's A Valley – #9 (1955) GOLD
Who Are We – #62 (1956)
You're In Love – #69 (1956) (from the movie "Accused Of Murder")
When The Tide Is High – #75 (1956)
NOTABLE TRACKS
All Of Me
I Don't Want To Walk Without You
I Gave You My Heart
I Let A Song Go Out Of My Heart
I'll Never Be The Same
It Happens Every Spring
Love Is
Love Is The Sweetest Thing
No More Than Forever
The Golden Ladder
The One I Love Belongs To Somebody Else
There Will Never Be Another You
We Believe In Love
What's New
Wrap Your Troubles In Dreams