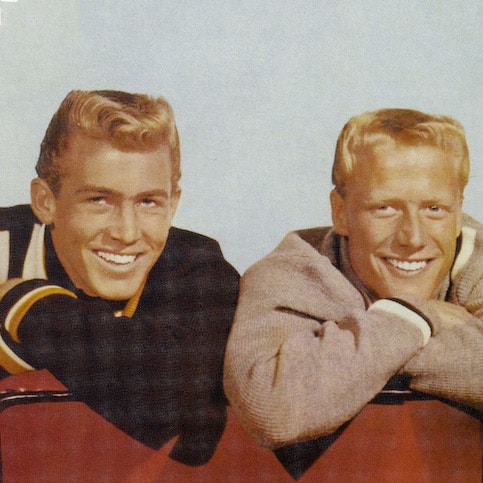 The Story....
Jan Berry and Dean Torrence met when both were students at Emerson Junior High School in Westwood, Los Angeles. Before their successful surf music career, the guys cut several doo-wop inspired records including "Jennie Lee". In 1960, with the help of record producers Herb Alpert and Lou Adler, Jan & Dean hit the Top 10 for the first time with "Baby Talk".
They signed with Liberty Records in 1961 and started turning out an incredible string of surf/hot rod songs. The streak started when "Surf City" peaked at #1. Their chart history became a tale of two cities when "Drag City" went Top 10. The Dynamic Duo of surf music also had major hits with "Dead Man's Curve" and "The Little Old Lady (From Pasadena)".
Jan & Dean, along with the Beach Boys, would help spread Southern California surf culture across the world.
CHART HITS
Surf City – #1 Pop (1963)
The Little Old Lady (From Pasadena) – #3 Pop (1964)
Dead Man's Curve – #8 Pop (1964)
Baby Talk – #10 Pop (1959)
Drag City – #10 Pop (1963)
Ride The Wild Surf – #16 Pop (1964)
Sidewalk Surfin' – #25 Pop (1964)
We Go Together – #53 Pop (1960)
Clementine – #65 Pop (1960)
Gee – #81 Pop (1960)
There's A Girl – #97 Pop (1959)
NOTABLE TRACKS
Little Deuce Coupe
I Get Around
Fun, Fun, Fun
Help Me Rhonda
You're On My Mind
Cindy
My Heart Sings
White Tennis Sneakers
Such A Good Night For Dreaming
Don't Fly Away
Jeanette, Get Your Hair Done
Baggy Pants (Read All About It)