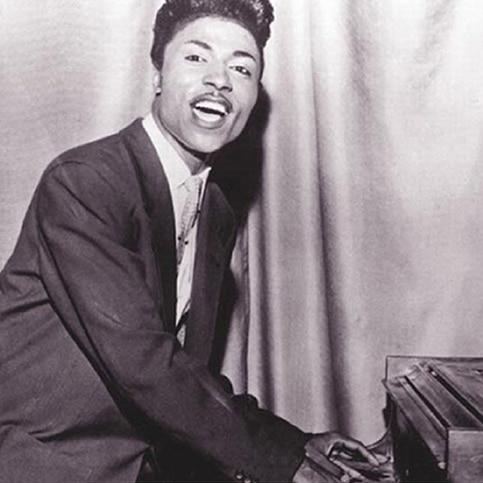 The Story....
The flamboyant and fabulous Little Richard (Richard Wayne Penniman) was born in Macon, Georgia in 1932.
He signed with Specialty Records in 1955. His first single was a smash. "Tutti-Frutti" peaked at two on the R&B charts and got in the pop top 20. His next one, "Long Tall Sally", did even better, it stayed at the top of the R&B charts for an incredible 8 weeks! After that it was classic hit after classic hit throughout the 50s. Timeless tunes like "Rip It Up", "Lucille", "Jenny, Jenny", "Keep A Knockin'" and "Good Golly Miss Molly" make a hall of fame career.
Little Richard's groundbreaking music approach, pounding piano, exciting vocals and charismatic showmanship helped lay the foundation for rock and roll and earn him the title of "The Architect Of Rock And Roll"
Little Richard was inducted into the Rock and Roll Hall of Fame in 1986.
Little Richard won the Grammy Lifetime Achievement Award in 1993.
CHART HITS
Long Tall Sally – #6 Pop / #1 R&B (1956)
Keep A Knockin' – #8 Pop / #2 R&B (1957)
Jenny, Jenny – #10 Pop / #2 R&B (1957)
Good Golly Miss Molly – #10 Pop / #4 R&B (1958)
Rip It Up – #17 Pop / #1 R&B (1956)
Tutti-Frutti – #17 Pop / #2 R&B (1956)
Lucille – #21 Pop / #1 R&B (1957)
Ooh My Soul – #31 Pop / #15 R&B (1958)
Slippin' And Slidin' (Peepin' And Hidin') – #33 Pop / #2 R&B (1956)
Baby Face – #41 Pop / #12 R&B (1958)
Ready Teddy – #44 Pop / #8 R&B (1956)
The Girl Can't Help It – #49 Pop / #7 R&B (1957) (title song from the Jane Mansfield motion picture)
Send Me Some Lovin' – #54 Pop / #3 R&B (1957)
Miss Ann – #56 Pop / #6 R&B (1957)
True, Fine Mama – #68 Pop (1958)
Bama Lama Bama Loo – #82 Pop (1964)
She's Got It – #9 R&B (1956)
NOTABLE TRACKS
All Around The World (1956)
Can't Believe You Wanna Leave (1957)
By The Light Of The Silvery Moon (1959)