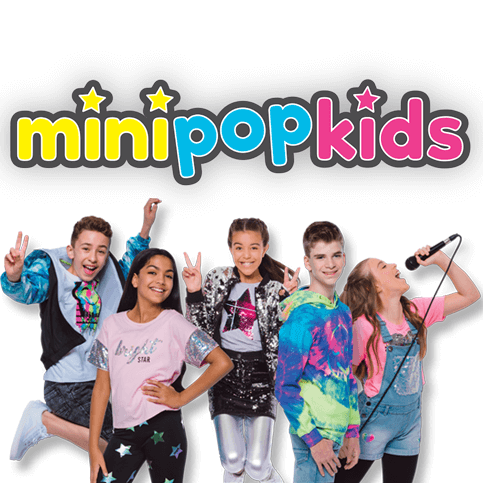 The Story....
From the 80s to now, K-TEL RECORDS' MINI POP KIDS have been entertaining global audiences for decades with their family-friendly spins on the world's most popular songs, and now have their own original songs too.
The group made of up 9-14 year old's, are Canada's #1 kids' music group with over a million albums sold, sold-out nationwide tours, over 30 MILLION views on YouTube, and topping the iTunes and Billboard charts.
Families can now enjoy the Mini Pop Kids everywhere, from watching their music videos on their YouTube Channel at home, to singing along to their CD's or streaming their songs on partners like Apple, Amazon, and Spotify. Kids can even live the full Mini Pop Kids Experience in real life, by wearing their fashionable Walmart Clothing Line, attending an OutSchool Popstar class, and even seeing them live on tour, for a concert that the entire family can sing and dance with together.
This high energy pop concert, full of excitement and participation, has sellout crowds across Canada and the US.
The Mini Pop Kids are available to be booked for corporate and festival shows.
This incredible rotating group of talent changes annually. Continuing with their motto "Music for Kids, by Kids" the Mini Pop Kids look to their own fans for finding the next stars, allowing anyone to audition for a coveted spot!
Canada's #1 Children's Group throughout the decades, the Mini Pop Kids continue to resonate with fans who loved them in the 80's who are now introducing their music to their own families. The Mini Pop Kids are excited to continue to entertain families around the world for many more years to come.
NOTABLE TRACKS:
Havana
Savage Love
Girls Like You
Happier
Watermelon Sugar
10,000 Hours
Break My Heart
Say So