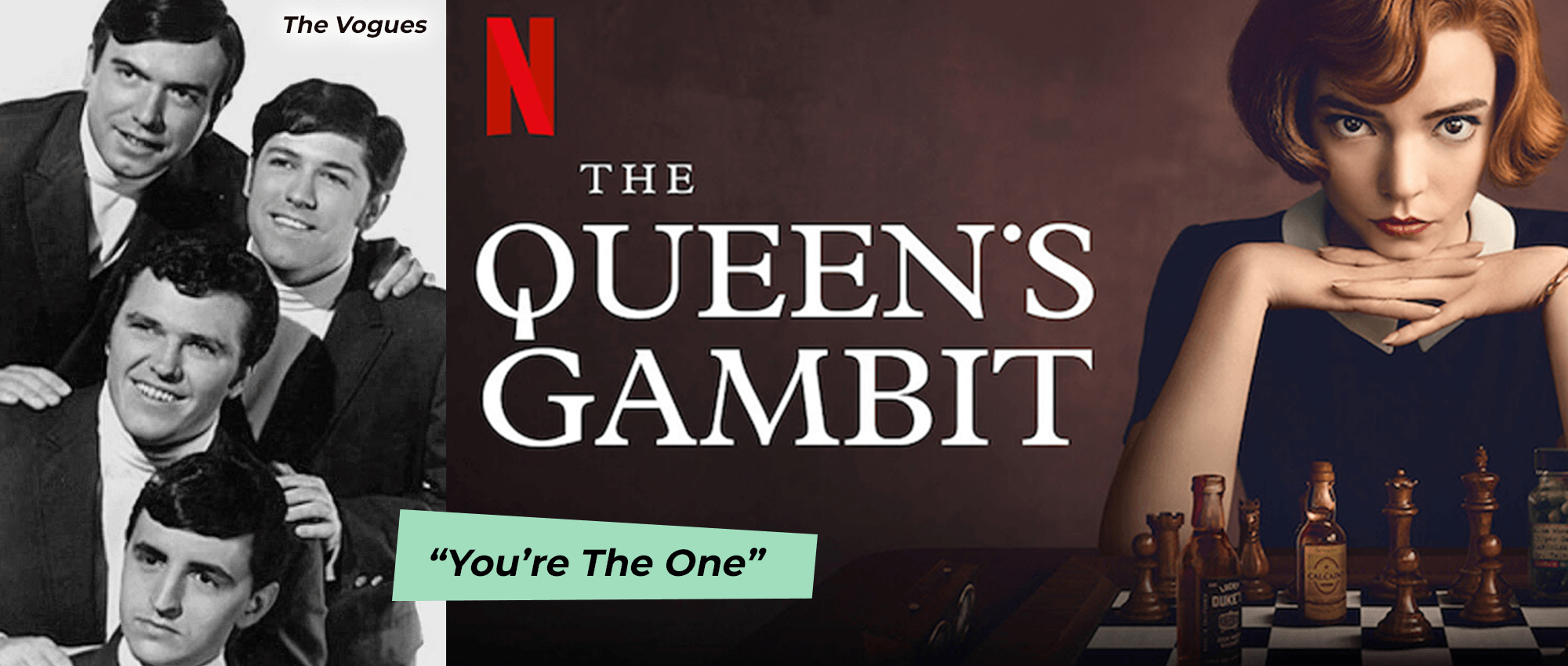 The Vogues "You're The One" featured in Queen's Gambit
There is a reason that during the unprecedented COVID-19 lockdowns chess board sales skyrocketed to a level 100% higher than their normal average. he reason for this unlikely sales spike is the Netflix show "The Queen's Gambit". Much to the delight of chess board producers everywhere, Scott Frank skillfully adapted this fictional coming-of-age tale from Walter Tevis' acclaimed 1983 novel of the same name. A beautifully crafted and visually stunning series, the narrative twists and turns while following Beth Harmon (played by Anya Taylor-Joy) – an unlikely chess prodigy being that she is both a poor orphan and female. We are on-lookers as Harmon navigates the obstacles faced by a female chess player (or any female) in the 50s-60s male dominated chess field (or any field). This combination helps create a period piece that remains timeless and approachable in its core struggle. In short, the show unfolds as Harmon leaves her orphanage and sees her star rise due to her unquestionable, innate talent for chess. Not without it's darkside, she struggles to come to grips with the pressure, her talent, her knack for self-loathing and with her dark past. If that doesn't pique your interest, all of this sits precariously on top of a foundation of drug addiction ingrained in her by an orphanage which gave tranquilizer pills to kids as if they were skittles.   
Although the words "dramatic" and "thrilling" are used as adjectives for a show about chess as often as we see Haley's Comet, there is no doubt that these are the proper descriptors here. Released on October 23, 2020 as a limited series run of 7 binge-worthy episodes, it will have you saying – or screaming – "YES I AM STILL HERE" at Netflix. Fun fact, Scott Frank purchased the screenplay rights from Walter Tevis' widow in 1992 and had been involved in attempts to get the story on screen since the acquisition. Yes, you read that right, that is 28 years of development before finally succeeding (also yes, I used a calculator). Needless to say this adaptation was worth the wait. Even the chess match scenes are riveting, electric, and sometimes even sexy. A sexy chess match, definitely a first. With critical acclaim across the board and a seemingly never ending shower of awards (Golden Globes, Critics Choice, Screen Actors Guild Awards etc) you need to see it.
K-tel is proud to have had a small part in this masterpiece of a series in partnership with Search Party Music with the classic song by The Vogues, "You're the One". The song can be heard at 20:33 of Season 1, Episode 3 entitled "Double Pawns".