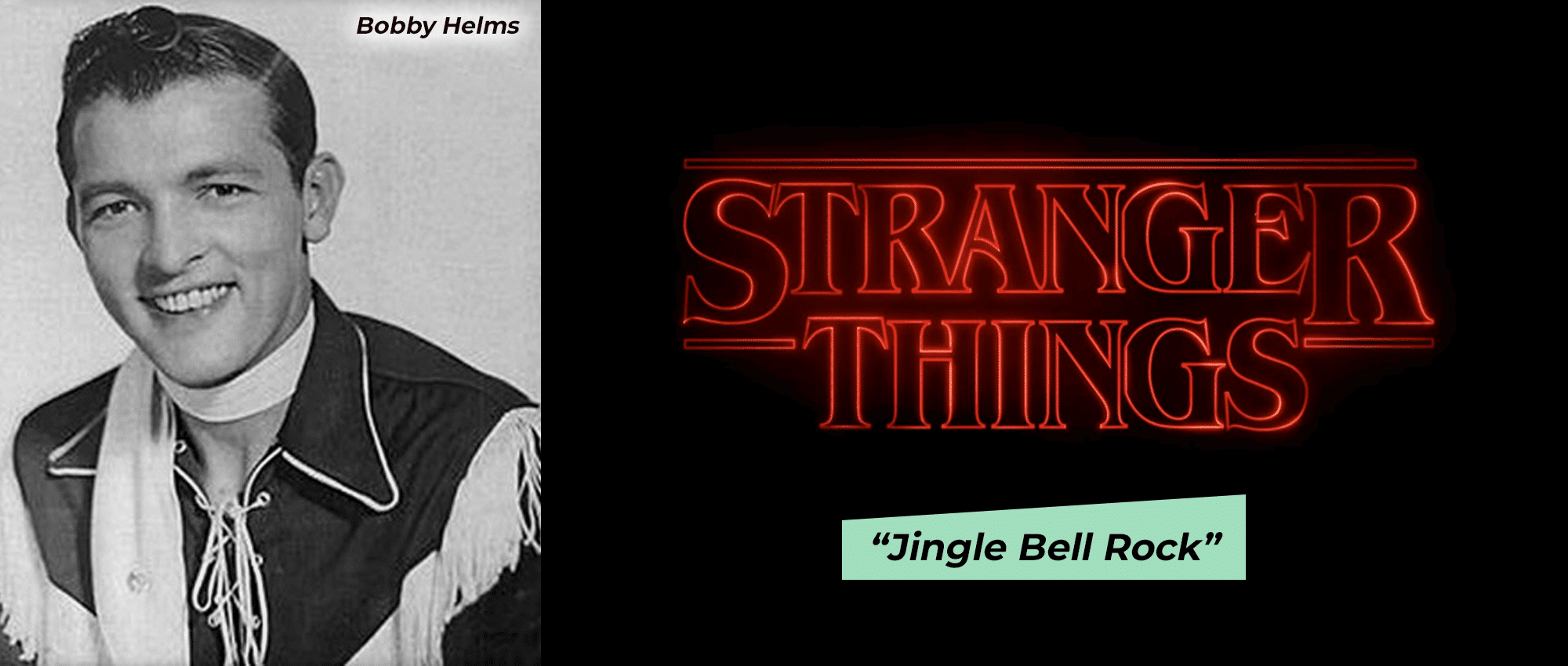 "Jingle Bell Rock" by Bobby Helms in Stranger Things Season 2
Are you a fan of all-things 80s? The music, the interior design, the extreme fashion choices? OH the fashion choices. If you answered with an enthusiastic "y e s" then you would have at this point seen some (if not all) of the Netflix breakout series "Stranger Things". Released on July 15, 2016, the show expanded its reach through word-of-mouth (and some gentle nudging by the Netflix algorithm) and eventually grew into a "heavy hitter". Viewers have tagged along for three seasons to date (a fourth coming in 2022) and helped the show become an undeniable cultural phenomenon. Anyone who tuned in was transported to a Steven Spielberg/John Carpenter/Stephen King-inspired world with ease as the show took many cues from the 3 kings of that era. With the help of a long list of callbacks to the zeitgeist of the 80s (and even the 70s) the show stands as a love letter to a bygone era that now, looking back, seems a little hazy. In short, if the nostalgia/longing experienced while holding an old blurry photo could be transformed into a TV show, Stranger Things would be that TV show.
A sci-fi drama through-and-through, the show's narrative centers on a close knit group of pre-teen/teen friends who find themselves entangled with mysterious forces and dangerous entities from a dark unknown place. These entities are trying to infiltrate their beloved fictional town of Hawkins, Indiana to destroy everything they hold dear. Known for weaving multiple plots together, Stranger Things even treats us to a classic "The-Government-Is-Covering-Up-Secret-Experiments" narrative to deliver our super powered protagonist. Creators Matt and Ross Duffer painstakingly recreate the feeling of being a pre-teen/teen in the 80s and the world the group navigates feel familiar, even to people born 1990-forward. It is easy to recognize that the real special sauce of the show is how this warm, nostalgic world is quite literally flipped on its head with the introduction of  "the upside down" and the mysterious forces/dangerous entities that creep forth from it. Add to this the attention to detail paid to developing each character's personality (and by-way of that our attachment to them) the show really does a great job of reeling in its viewers. If you have a taste for loud fashion, synth music, telekinesis, and scary alien monsters from an alternate reality, Stranger Things will scratch your itch.  
In partnership with Nora Felder (Picture Music Company) K-tel is proud to have supplied a classic Christmas jam to the INCREDIBLE soundtrack of Stranger Things Season 2 in the form of Bobby Helms' – Jingle Bell Rock. The song can be seen in Season 2, Episode 9 entitled "Chapter Nine: The Gate" at 46:51.